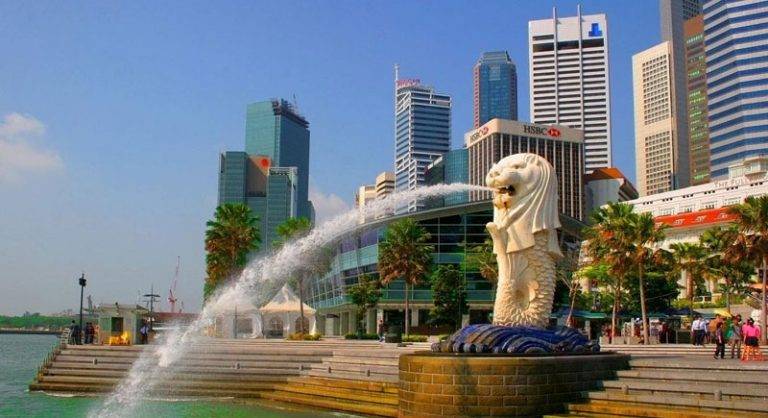 Study in Singapore | Student Visa Consultant
Capital: Singapore
Currency: Singapore dollar
Language: English and Mandarin Chinese
Major Cities: Ah Soo Garden, Alexandra, Ama Keng, Bright Hill Crescent
Start your Study in Singapore Journey | Eligibility for Singapore Study Visa
Singapore ranks 9th on the UN Human Development Index with the 3rd highest GDP per capita. It is placed highly in key social indicators: education, healthcare, life expectancy, quality of life, personal safety and housing. Although income inequality is high, 90% of homes are owner-occupied. According to the Democracy Index, the country is described as a "flawed democracy". The Singaporean passport is joint first with Japan for visa-free travel granted by the most countries to its citizens.
Study in Singapore is a popular study destination for international students, offering a high-quality education and a safe and modern environment. Some of the top universities in Singapore include the National University of Singapore (NUS), Nanyang Technological University (NTU), and Singapore Management University (SMU).
To study in Singapore, you will need to obtain a student pass from the Immigration and Checkpoints Authority (ICA). This requires an acceptance letter from a recognized educational institution in Singapore and a valid passport. You will also need to show that you have sufficient funds to support yourself financially during your studies.
There are several types of student passes available, depending on your study program and duration. For example, there are short-term passes for students who are studying in Singapore for less than 6 months, and long-term passes for students who are studying for more than 6 months.
The cost of study in Singapore depends on a number of factors, including the type of institution you are attending, the program you are studying, and your living expenses. In general, you can expect to pay tuition fees that range from SGD 20,000 to SGD 40,000 per year, depending on your program and institution. You will also need to budget for living expenses, which can range from SGD 8,000 to SGD 15,000 per year, depending on your lifestyle.
Overall, study in Singapore can be a great opportunity to get a high-quality education in a modern and vibrant country.
Universities to Study in Singapore
Famous Places to Visit while Study in Singapore
Marina Bay Sands
Merlion Statue
Fountain of Wealth
Henderson waves Bridge
Esplanade- Theatres on the Bay
Art Science Museum
Affordable Education – Singapore is soon emerging as a viable alternative for world class education at an affordable cost. The tuition fees of the universities and colleges and the cost of living in Singapore is far less than that of Australia, UK or USA.
High Quality Educational Institutes – Just because the cost of studying in Singapore's universities and colleges is less, does not in any way mean that the institutes compromise on the quality of education being imparted to students. In fact, Singapore has some of the best educational institutes in the Asia- Pacific region. The education system of Singapore offers as much scope and innovation as of any other developed nation.
International Exposure – Singapore hosts students from more than 30 countries, which means that students moving to Singapore for their higher studies will get a chance to acquaint themselves with cultures and ideas of different nationalities.
Cost of Study in Singapore for International Students:
Diploma Degree: 7000 SG$
Bachelor's Degree: 11000 SG$
Master's Degree: 16000 SG$
Other Expenses for International Students:
Average Living Expenses- 2000 SG$
Transportation Cost- 50 SG$
Popular Courses in Singapore:
Hotel Management
Hospitality Management
Travel Tourism
Business Management
Aviation
Banking and Finance
Information Technology
Computer Science
Levels of Study:
Diploma- 6months study + 6months paid internship*
Bachelor's program- 3 years
Master´s programs- 1 to 2 year
List of Universities/College
AEC College
Dimension International College
AGH University of Science & Technology
ICASTEC College
SDH Singapore
FTMS Global Academy
Informatics Academy
Job Opportunities after Study in Singapore
According to the Ministry of Manpower, Singapore, international students on a Student Pass in Singapore are eligible to work part-time for about 16 hours a week during term and for unlimited hours during vacation, provided:
They are a registered full-time student in one of the approved institutions
They hold a valid Student Pass issued by the Immigration and Checkpoints Authority (ICA)
It is important to note here that students studying in the university/ institution which are not on the list of approved institutions are not eligible to work part-time or full-time both during the term and/ or vacation.
PR Opportunities after Study in Singapore
Being a Singapore PR (Permanent Resident) comes with many benefits. If you are a current work pass holder (Employment Pass, Personalized Employment Pass, EntrePass or S Pass), and have worked in Singapore for at least six months, you'll be eligible to apply for Singapore PR (permanent resident) status.
Official Government sites:
Questions ?

e Study Abroad can be your solutions