Study in Germany | Germany Study Visa | Germany Student Visa Consultant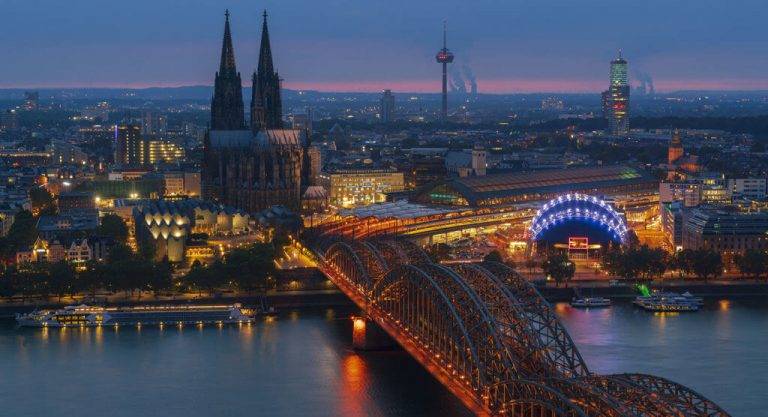 Capital: Berlin
Currency: Euro €
Language: German
Major Cities: Berlin, Hamburg, Munich, Cologne, Frankfurt, Dortmund
Major Intake: September/October(Winter) & March/April(Summer)
Start your Study in Germany Journey | Eligibility for Germany Student Visa
About Study in Germany | Study Visa Germany | Germany Student Visa Consultant
Germany is a central-western European country. It includes 16 constituent states, covers an area of 357,386 square kilometers (137,988 sq mi), and has a largely temperate seasonal climate. With nearly 83 million inhabitants, Germany is the most populous member state of the European Union. After the United States, it is the second most popular immigration destination in the world.
The economy of Germany is a highly developed social market economy. It has the largest national economy in Europe, the fourth-largest by nominal GDP in the world, and fifth by GDP (PPP). In 2017, the country accounted for 28% of the euro area economy according to the IMF. Germany is a founding member of the European Union and the Euro zone, making Study in Germany in demand in Europe.
Study in Germany is a popular choice for international students, with over 350,000 students from around the world choosing to study in the country each year. If you're interested in studying in Germany, here are some steps you can take:
Choose a school and program: Germany has a wide range of universities, colleges, and other higher education institutions to choose from. Consider factors such as location, program offerings, and cost when selecting a school.
Apply for a Germany Study visa: To study in Germany, you'll need a student visa, which allows you to stay in the country for the duration of your studies. You can apply for a student visa through the German embassy or consulate in your home country.
Find a place to live: You'll need to arrange for a place to live while you're studying in Germany. This could be on-campus housing, a homestay with a German family, or an apartment or house off campus.
Register for classes: Once you arrive in Germany, you'll need to register for classes and pay tuition fees.
Get health insurance: It's a good idea to get health insurance to cover any medical expenses you may incur while studying in Germany.
Famous Places to Visit while Studying In Germany
Neuschwanstein Castle
Brandenburg Gate
Lake Constance
Cologne Cathedral
Heidelberg Castle
Reichstag Building
Why Study in Germany with Germany Study Visa
Abolished tuition fees for undergraduate students: In 2014, Germany's 16 states abolished tuition fees for undergraduate student at all public German universities. This means that currently both domestic and international undergraduates at public universities in Germany can study for free, with just a small fee to cover administration and other costs per semester.
Diverse range of Study Opportunities: There are almost 450 state-accredited universities with some 17,500 degree programs in Germany. German universities offer degree programs in every possible subject and academic level – be it bachelors, masters, state examinations or doctoral degrees.
High Quality Educational System: Benefit from high quality educational system to help you advance in your career, learn new language by making new friends and socializing with other students, and gain an amazing life experience to remember for years to come by studying and living as a foreign student in Germany.
Cost of Study in Germany for International Students
Undergraduate costs to study in Germany is free at public German universities as an undergraduate, there is a charge per semester for enrolment, confirmation and administration. This is typically no more than 250 Euro per semester, but varies depending on the universities. MBA/Management related course are paid course in Germany which cost between 8000 Euro to 25000 Euro for a course of 12 to 18 months.
Other Expenses for International Students:
Average Living Expenses- 10,200 Euro per year
Transportation Cost and Health Insurance- 180 Euro per month
Popular Courses to Study in Germany | Germany Student Visa Consultant
Business Management
Electronic and Communications
International Business Administration
Finance
Economics
International Finance
Environmental Engineering
Neuroscience
Electrical Engineering
Renewable Energy
Mechanical
Automobile
Levels of Study in Germany :
Bachelor's program- 3years
Master's program- 2years
PhD – 3 to 5 years
List of Universities/Colleges:
Hochschule Bremen –International Graduate Center -Bremen
GISMA Business School -Hanover
International Academy of Students -Schwerin
Accadis Hochschule Bad Homburg (AHBH) -Homburg
International University of Applied Sciences (IUBH) -Berlin and Bad Honnef
New European College GmBH –Munich
Cologne Business School –Cologne
International School of Management -University of Applied Sciences
Eurasia Institute for International Education (EIIE) –Berlin
EU Business School –Munich
Schiller International University, SIU -Heidelberg
Halmstad University, Halmstad, Sweden and Hochschule
Ostwestfalen – Lippe, Germany
Job Opportunities after Study in Germany with Germany Study Visa
International students are allowed to work for 120 full working days or 240 half working days in a year.
Students with German language skills are entitled for higher wages.
Non-EU Students are allowed to stay up to 1.5 years after the completion of the study to search for a job.
PR Opportunities after Study in Germany:
Even if you just get a job offer for a part-time employment, a residence permit can be granted to you. If you fulfill five years of continuous residence in the territory of the Germany, then you will be eligible to get PR in Germany.
Official Government sites:
Immigration – https://ec.europa.eu/immigration/node_en
Study in Germany | Germany Study Visa | Best German Student Visa Consultant- FAQs
Questions ?

e Study Abroad can be your solutions