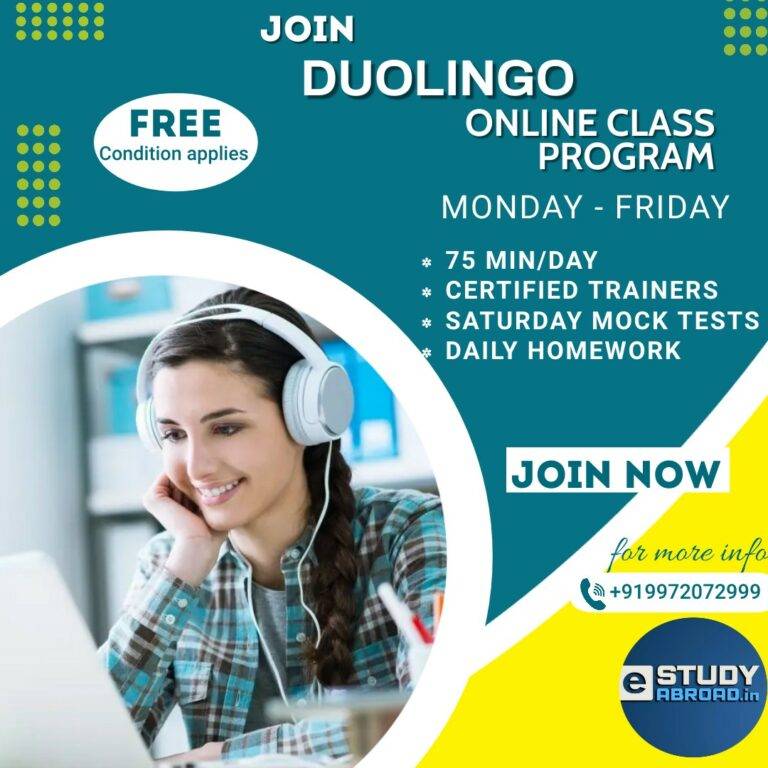 Overview:
Duolingo English Test (DET) is an online English proficiency test which is accepted by over 4,000 universities globally. Duolingo is a convenient option as an eligibility to study abroad because it can be taken from anywhere as long as you have a stable internet connection, camera, microphone, and speaker. Duolingo English Test takes 1 hour to complete, and you can receive your results within two days.
Test Format:
Students sit the DuoLingo English Test at home on their computer. It begins with a series of Adaptive Reading and Listening questions for 45 minutes, followed by 10 minutes of Writing & Speaking.
Scoring:
The Duolingo English Test is scored between 10 and 160. Competitive applicants should aim for scores above 145.
Cost of the Test:
Registration for the DuoLingo English Test costs 59 USD (4,872 INR)
Preparation Resources:
DuoLingo offer a free practice test with the ability to take multiple times.
DET uses a computer adaptive technology, which means that the
difficulty level changes according to the candidate's performance. If
you answer correctly, the difficulty level increases, and vice versa.
Given below is an overview of Duolingo Exam Pattern:
| Section | Duration (in minutes) | Description |
| --- | --- | --- |
| Introduction and onboarding | 5 | Verifies device functionality and provides test guidelines | Submission of ID proof |
| Adaptive test | 45 | Graded section with various question including MCQs, Fill in the Blanks, etc |
| Writing and speaking sample | 10 | Ungraded video interview assessing writing and speaking skills |